#strEATtalk: An Interview with Chompsky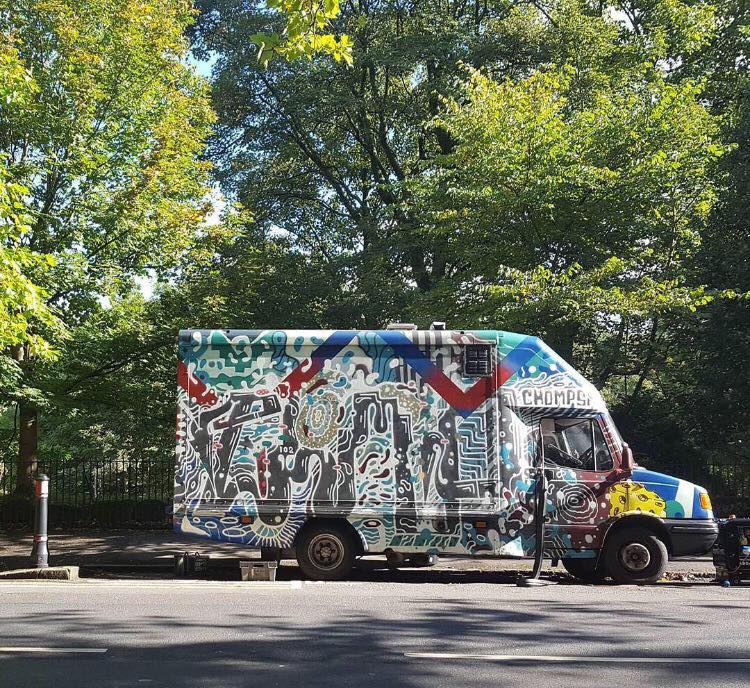 Chompsky are a Glasgow based street food company who have been around for a few years. In that time they have established a consistent following of foodies and people curious to try something new! They generally formulate their menus on a rotational basis so there is always something fresh and exciting on the line up. Whether it be Hoisin Peanut Pulled Bao Buns, Jerk Ham Hock Mac n Cheese or their infamous BBQ Vietnamese Pork Bahn Mi, Chomsky are masters at keeping street food delectably innovative
We were fortunate to catch up with Felicity Day one of the founders and talked community, food culture and their latest culinary venture, Gnom!
Q. When I hear about your story and your beginnings in Glasgow, it's difficult not to get a little bit excited! Chomsky, of course, also caused a lot of controversy and shook things up a bit with his innovative ideas. How important is innovation in relation to your street food?
A. Innovation is very important to us and it has worked in our favour. When we first started we knew that we wanted to do something a little different. There were hardly any street food trucks in Glasgow and even around in Scotland and yet we knew how popular street food in the western world could become after looking at other cities such as Berlin, London and New York. Obviously it is hard to say that our food is innovative in terms of each dish - we do a lot of research to try to bring authentic street food flavours from the places that have been serving street food for centuries as part of daily life. And taking this and the fact that when we started we were amongst the first to buy a truck meant that innovation became our thing. We continue this through constantly changing our menus, exploring new flavours and travelling to different spots.
Q. And how palpable is that excitement and buzz around street food? Do you think the people are hungry for change?
A. In just the two years that we have been trading we have seen a massive buzz develop around the street food industry. Over time there is more demand and more markets to trade and people coming to events have increased. Street food seems to bring out very good things - community, inexpensive and accessible dining and above all the opportunity to try new things. The tangible change in the industry over the last few years leads us to believe that this industry will go from strength to strength.
Q. The street food community of Glasgow seems to be growing. What obstacles have you come up against so far?
A. Getting the council to trust the health and safety concerns around street food given the extraneous variables has been one obstacle. This results in trying to prove to the relevant sectors that we are indeed food businesses who take this aspect as seriously as fine dining restaurants. We applied for a street traders licence which was a lengthy process with many complications that are off putting and frustrating. There isn't one department who have the answers to any questions and so trying to find our legislation and regulations is difficult.
The general public can occasionally also be slightly mistrusting of new flavours and often ask in disbelief "you don't sell roll and sausage?!".
Q. Your van is certainly one of a kind! There's a saying that "People make Glasgow"; do you see the work you are doing with street food as reflective of this mantra (perhaps in the face of the pressures of big business and rapid globalisation)?
A. We have found ourselves, luckily, to be part of the street food hub of Glasgow. And this saying 'People make Glasgow' is very relevant to that. The people in this industry are all running small businesses and often are trading in the same space. But instead of severe competition we find that we work together, help each other out and go out of our way to ensure that everyone is gaining from the experience. With regards to us personally - we are happy to be considered as breaking the mould potentially but we know that we are minuscule players in a large world. Anything that we can do to encourage small businesses in Glasgow we would do though - these are the sorts of things that make Glasgow what they are.
Q. We are seeing a movement towards ethical eating in Glasgow, and ingredients are in the spotlight. Tell us about how you source your ingredients!
A. Trying to buy Scottish meat, fish and fresh vegetables is always at the forefront of our mind. Scotland has such great produce and the welfare of any animal that we use as an ingredient is important to us. Also we try to keep other things in mind - for example only using Rapeseed Oil whenever we do frying as it is much better that the 'vegetable' palm oil that is ruining much of the worlds rainforests through deforestation and has half the saturated fat of other frying oils. We feel food businesses have a duty wherever possible and realistic to source ingredients thoughtfully and with an understanding of origin.
Q. You signalled your recent appearance at Dockyard Social as one of your last (as Chompsky) for a little while as you work on a new permanent project. Are you able to tell us a bit more about this and what we can expect from the new venture?
A. Gnom is our new venture and it's going to be a little different to Chompsky. Whilst we love street food and are taking inspiration from these kinds of flavours we are using our new space to hopefully add a slight bit of finesse to our cooking. We can't reveal to much right now but it will have daytime opening hours and lots of sweet things too.